Zopilote Surfcamp
The story of the Zopilote Surfcamp
My name is Simon, and I am the owner of the Zopilote Surf Camp in beautiful Costa Rica. More than fifteen years have passed since my departure into the unknown, the search for a secret spot and a life-changing adventure. Wonderful things have happened for me here, which I would like to share with you. The most beautiful thing about the surf camp are the people and their stories from all over the world. It's the emotional moments in life that we remember. The radiant glow of my guests here at Playa Hermosa regularly reminds me of the day when I was lucky enough to discover this wonderful place for the first time.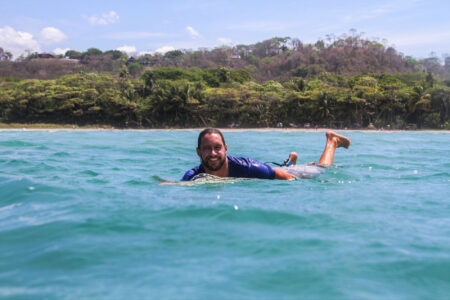 Enthusiasm
I grew up in Vorarlberg, a mountainous province in the west of Austria, which is known for its alpine landscape and winter sports. Nature and extreme sports shaped my mindset. I came to surfing through snowboarding and skating. At the age of 21, I flew to New Zealand and sealed my enthusiasm when I conquered the rough coasts by bus with my surfboard. I realized that surfing is more than just a sport. Surfing is a lifestyle that you can associate with travel, culture and nature! I wanted more of that.
Tracing the waves
My life from here on was all about surfing. For many summers, I worked for the Chill and Surf (at that time there was still a camp in France), and in the winter I worked in the Alps as a snowboard instructor. Like many other surfers, I dreamed of endless summer. Surfing constant waves all year round, without neoprene – just the board and me – on an untouched break. For me there was no way around the fact that one day this dream would come true. My partner at that time, Bruno, also followed this call. And soon a miracle was waiting for us.
Adventure
In 2005, we packed our bags and set off on an adventure that has continued for me to this day. Our goal: To open a surf camp in Central or South America that would match our own expectations. Costa Rica was only going to be a stopover on our trip. As you can imagine, it turned out differently. With only one surfboard and light luggage we travelled the coasts. The Nicoya Peninsula was a nearly untouched spot at that time. In Malpaís, we discovered a surfable break and Santa Teresa Beach followed shortly after. We loved it, so Bruno and I worked in Santa Teresa's first surf school surf instructors for a spell to finance our onward journey. But then a happy coincidence occurred.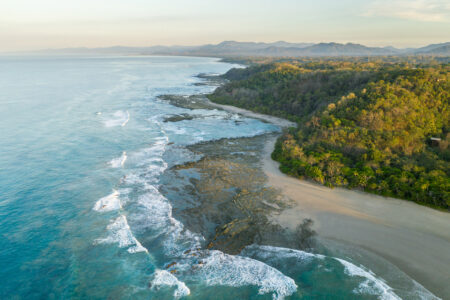 Playa Hermosa
I found a flyer for a house located at "Playa Hermosa." Before that I had only casually heard something about this beach. There would be waves there, but surfing really? At that time there were only a handful of people who could judge that. Curiosity carried me on my bike through the (then still very rough) jungle, all the way to the coast. There it was! A deserted huge beach break, directly bordering the jungle, facing the setting sun, with a break we surfed daily without neoprene for several weeks from then on. It became clear that there are constant waves here – all year round! Playa Hermosa exceeded our expectations, so there was no doubt that we should settle here.
Zopilote Surfcamp
We were just in our mid-20s and had invested our last savings into our first camp. "Zopilote Surfcamp" – named after the raven vulture, a scavenger bird common to these parts. The beginnings were expensive and difficult, so Bruno and I had to juggle a lot of jobs on the side. We repaired surfboards, gave surf lessons and worked as bartenders at the popular full moon parties. Our camp and Playa Hermosa were initially only visited by brave travellers who were looking for the road less taken. Back then, three houses of local families and a very small school made up the whole infrastructure of the area. To manage our bookings via internet we went to Santa Teresa every day.
Take Off!
Experienced surfers know that long distances, risk and courage are rewarded. Paddle and get up, jump off and paddle back to the line-up. With the first camp we made it to the "line-up of our dreams." Bruno and I parted ways, and I moved the camp to a new location and then later to our current home. At the same time the necessary infrastructure was created to finally send these lines from Playa Hermosa via internet (whoo!). Meanwhile Costa Rica is a home for me, and Zopilote Surfcamp has become a family business. My great love Trish, our daughter and I live – as the locals say so nicely – the Pura Vida! Trish runs a small surf shop with her own fashion brand Salty Bird. She has made it her business to create flexible surf fashion for women, which will not be washed away by the next wave. Our daughter is leaving soon for her own adventure. And I regularly surf the beautiful waves of Playa Hermosa with the same enthusiasm as for 15 years ago. I look forward to your enthusiasm. I hope you love it here as much I do.
Yours, Simon!

Ready for the next wave?
Book your stay at Zopilote now! We are looking forward to your visit!